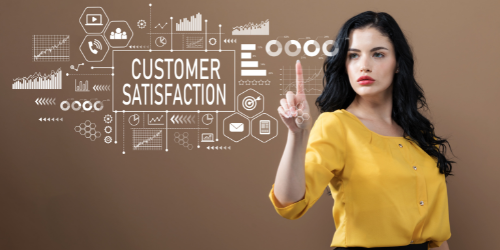 In our age of digital technology, it can seem that brick and mortar businesses have lost their competitive edge to online-only businesses. However, the reality is that good customer care cannot be provided solely via email or phone calls. There are many ways that brick and mortar business owners can leverage online marketing to engage with customers and build trust, loyalty and even sales in the real world, as well as online. In this article, we'll look at five ways that brick and mortar businesses can use online marketing to engage with customers more effectively in person.
1. Track the lifetime value of your customers
How do you value your customers? The cost of acquiring a new customer is often overlooked by businesses, especially small businesses. Keep detailed records of any spend incurred during the promotion period of your campaign, then assign them to clients obtained because of that spend. Some of those leads will stay to become long term clients with an excellent return on investment.
The next step is to maintain a lifelong spend number of your recurring customer base. The flywheel effect influences how much the customer returns to you for more services. Perfecting the acquisition through flywheel is the Olympic Gold Medal in marketing. Score for the home team.
Online marketing tools help you manage marketing spend and more accurately attribute it to your customer. Knowing the value of your customer sets the stage for an elevated level of attention and care. Know and cater to you're A and B customers, spend less time on C customers.
2. Engage with customers
Do your customers even know you exist? Do they know where your business is located, or what hours it's open? If not, they might be making decisions about who to buy from based on these factors. This hurts small businesses because consumers are more likely to use reviews and social media when deciding where to spend their money. Whether or not customers already know about your brand, engaging with them online or at networking events could attract new clients.
Your online presence provides customer care when you can't. New customers will look to validate you by your online presence, typically referred to as "authenticating." You simply cannot afford NOT to have a complete profile on Google My Business, Yelp or other search tools relevant to your business.
Returning customers might visit your online "knowledge base" to extend the care they receive in your location. Plastic Surgeons are an excellent example. Any client receiving a procedure can access after care and ongoing improvement techniques via your online presence. The doctor is always in.
3. Launch promotions and coupons
When it comes to capturing customers' attention online, "bundling" can be a powerful tool. Try launching a special promotion to add variety to your customer experience—this helps shoppers feel like they're getting additional value from your business when they come in-store. Be sure to offer something truly captivating so that your customers don't just ignore it—if you give them an irresistible offer redeemable in person.
T-Mobile frequently gives away branded items (blankets, phone case) for "members" who show the code on their phone to an in-store clerk to receive the item. Have something you would like to "gift" away? Provide services to local community groups and leverage their audience with a coupon. The web, it's deep.
4. Communicate via email
According to a report from Bizrate Insights, personal emails are much more effective than social media. This is especially true for businesses that have an emotional connection with their customers. We previously used the example of plastic surgeon office, so let's keep with it.
As the seasons change, skin care needs change and there is an opportunity to create content to help their client engage and feel trust. Email sequencing is a series of emails evolving a topic. The client must feel valued and personally cared for to keep up with and open each email in the series. Loyalty is the long game.
5. Turn leads into sales
Remember to be in the moment, listen carefully to what customers are saying or asking for, then use that as a cue to guide them along their buying journey. Remember too that not every interaction has to result in a sale. Generating leads from customers seeking information can lead to long term client relationships worth considerable value.
Online communication tools can be as broad or niched as you need. Take the time to define the customer buyers journey and provide value at all touch points along the way. You will cultivate rewarding, loyal partnerships with your client base. Mastering this transition is a challenge worth taking on, you don't have to sell very hard when they are ready to buy.
Need help with your online marketing engagement? Click below to schedule a free coaching session today.